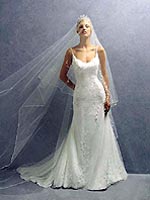 Welcome to Pattrapon Bridal Salon. Located at Antique Row in historic Kensington, Maryland, we offer a complete collection of Bridal gowns and accessories as well as outfitting for Bridesmaids, Mother of the Bride, flower girls, and proper formal attire for the gentlemen. As part of our program we have planning professionals for every aspect of the Wedding event including catering, florals, and vacation planning. As an example of our unique bridal salon we include a selection of simple and elegant ready-to wear bridal gowns and wedding dresses, sophisticated modern designs as well as romantic Renaissance styles, custom alterations for antique bridal gowns, and a complete selection of designer interpretations such as Maggie Soterro, Monique, Saison Blanche, Rena Koh, Anu Pam, Mon Cheri, Emme, Impression, Eden, Jacquelin, Christina Wu, Watters & Watters, Pannoply, Ansonia, Lori London, Halo & Co, Bel Aire, Beverly Clark, Dyeables, Benjamin Walk. Jasmine Jade,
St. Patrick, Charo Peres, Jasmine, Cameron Blake, Montage, Belsoie, B2, Special Occasions Shoes
It is our pleasure to share your Joy.
Stock list of
designer wedding dresses and bridal gowns
Maggie Soterro, Monique, Saison Blanche, Rena Koh, Anu Pam, Mon Cheri,
Jasmine, Emme, Impression, Eden, Jacquelin, Christina Wu, Watters & Watters,
Pannoply, Ansonia, Lori London, Halo & Co, Bel Aire, Beverly Clark, Dyeables,
Benjamin Walk, St. Patrick, Charo Peres, Jasmine, Cameron Blake, Montage,
Belsoie, B2, Special Occasions Shoes