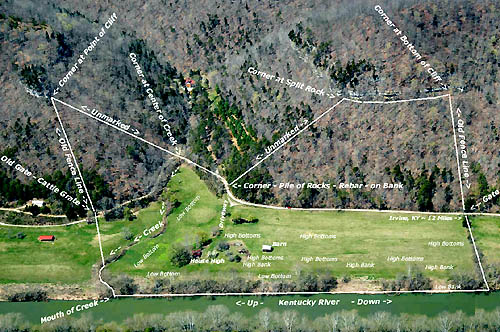 Printable Photo of Property Lines
Kentucky Farm Land for Sale


This Jpeg image is 6.86"w x 10"h Hi-Res 300 dpi or 2058px wide by
3000px tall. Print using layout or imaging software such as Photoshop
or Photoshop Elements. In Windows 98 try Kodak Imaging, ie.
Open image, Click Zoom, Click Actual Size, Click File, Click Print
The Kentucky River (in this photo) runs from South - South West (left)
to North - North East (right). The river makes many "S" and hairpin turns.

Southwest is in the lower left corner.
Northeast is in the lower right corner. Dah!

The farm is very open to the south and gets plentyof sun
all day long. The house site is set back from the the access
road providing plenty of peace and privacy.

Rest assured that the farm is not in some proverbial dark
hollow in the pines, where the sun never shines.